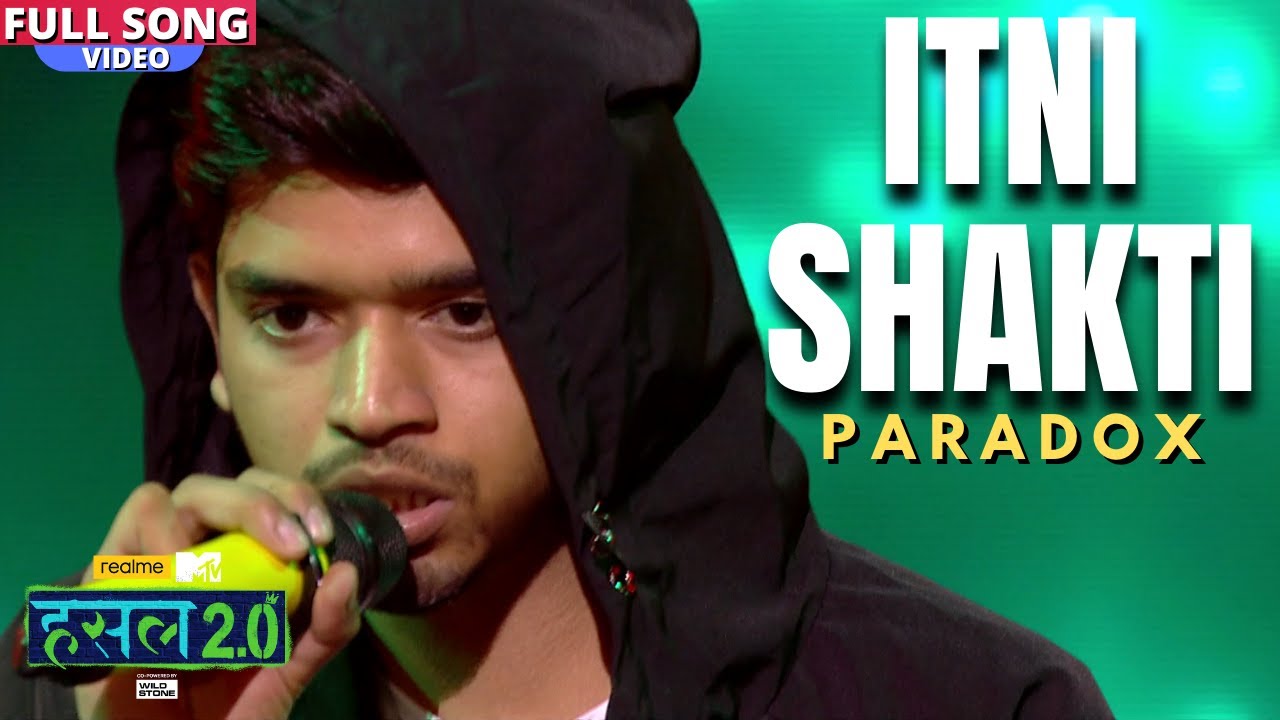 Itni Shakti Lyrics
Itni Shakti Lyrics TV show MTV Hustle 2.0 song sung by Paradox Itni Shakti Lyrics music given by Other Artist and Itni Shakti song lyrics written by Paradox.MainCast Paradox.
Itni Shakti Song Details
| | |
| --- | --- |
| 🎤Singer | Paradox |
| 🎬Movie | MTV Hustle 2.0 |
| 🎹Music | Other Artist |
| ✍Lyrics Writer | Paradox |
| 🚩Label | KaanPhod Music |
Itni Shakti Lyrics
Kehte Log Sabb Kalyug Ka Dosh Hain
Har Koyi Yaha Ehsan Faramosh Hain
Mera Sawaal Kahin Aap Bhi Tohh Aise Nahi
Oohh I'm Sorry Lekin Aap Bhi Khaamosh Hain
Mera Maksad Kisi Ko Kehna Bura Nahi
Lekin Aap Sahi Phir Manna Kyu Bura Bhai
Abhi Tohh Huye Bas Kuchh Hee Kshann Hain
Yehh Toh Shuruaat Gaana Hua Abhi Poora Nahi
Jaane Kyu Aajkal Alag Hee Sanak Sujhe
Shakal Se Lage Aaina Naa Pasand Tumhe
Kyuki Yehh Geet Sang Beat Ke Likha Hain Tumpe
Pehle Dosh Dene Waalo Pe, Baaki Bache Hum Dooje
Aajj No Limits Mujhe Khulke Sunaane Do
Kyu Yehh Zamana Hee Dosh Deta Hain Zamaane Ko
Kyu Yehh Log Hee Kehte Ki Log Kya Kahenge
Inhe Bolo Batoon Ki Batti Banao Humein Jaane Do
Mujhe Gaane Do Khuda Bhi Mera Sunega
Sachh Sunaane Do Na Dar Mujhe Logon Ka
Milli Shakti Dil Karam Hee Chunega
Log Acha Bura Bolenge Pade Farak Na Dono Ka
Itni Shakti Dena Mujhe Daata Tu
Nek Rahe Irada Iss-se Maangun Zyaada Kyun
Roz Main Sochun Aisa Kar Pata Yoon Ki
Logon Ke Rakh Gham Khud Khush Gaa Sakun
Baatun Khushiyan Baatun Pyaar Main
Toh Phir Kaise Kamzor Hoga Vishwaas Yeh
Na Jata Main Bhool Sateek Yeh Asool
Toh Phir Bhool Ke Bhi Bhool Kaise Karun Iss Rastein Mein
Vastav Mein Ab Insaniyat Pe Na Bharosa
Dharmon Ka Jaal Yahan Jaise Sabko Hain Dabocha
Mujhe Toh Na Palle Padti Baatein Saari
Woh Kehte Khaa Naa Kasam Par Main Vrat Pe Jaise Rakha Roza
Hota Vaad Vivaad Aajkal Bina Baat
Marke Hona Amar Na Ki Bann Jeena Laash
Mera Hiphop Hee Ram Main Jaise Pawan Putra
Jap Karun Subah Shaam Dekhlo Seena Kaat
Ek Hee Laksh Yaad Aaun Jaane Ke Baad Bhi
Ho Sabka Bhala Khwaaish Yeh Aakhiri
Mutthi Band Thi Duniya Mein Aate Waqt Toh
Ho Kaise Yakeen Lakeeron Pe Samajh Aaye Baat Nahi
Ho Sakta Hain Joh Sach Ho Duniya Ke Nazariye Se
Woh Ho Jhoot Aur Tum Ansh Ho Kisi Zariye Ke
Yeh Duniya Kaun Chalaye Kisi Ko Nahi Maalum Kyunki
Jisko Tum Jaano Woh Hain Patthar Jiske Ghar Sariye Ke
Yehh Toh Baatein Thi Saari
Aakhir Mein Main Bhi Toh Hoon Insaan
Jeena Bhram Mein Badhava Dena Mithya Ko Bin Jaan
Bas Yahi Kaam Mera Mera Path Naa Hain Satya Ka
Aham Brahmasmi Main Vishnu Main Hee Shiv Main Hun Insaan
---
Itni Shakti Song Video
---
FAQ
Q1# Who is the singer of "Itni Shakti
Ans: Itni Shakti song is sung by Paradox.
Q2# Who wrote the lyrics of "Itni Shakti" song?
Ans: Itni Shakti song lyrics written by Paradox.
Q3# What movie the "Itni Shakti" song is from?
Ans: Itni Shakti song is from the movie MTV Hustle 2.0
---